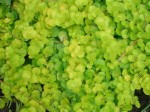 This fast growing groundcover can quickly spread all over the garden and even into the lawn. It is not to everyone's liking but I find it very attractive and useful so turn a blind eye to its wandering ways. The plant is prostrate and roots form along their length as the plant marches along. The bright yellow color of the leaves stays bright and cheerful during the very hot weeks when everything else goes limp and quits blooming. It is easy to pull out when it strays and is very intimidated by mulch so has not been a problem in my garden. In shady areas the color is chartreuse or lime green, a color I find even more to my liking but unfortunately I have very little shade. As long as creeping Jenny gets plenty of moisture it is attractive but if water becomes scant it will produce tightly curled leaves that are ratty looking up close. It is especially nice in shady areas by streams, pools or wet areas where other ground covers often do poorly. It is also nice in containers as a cascading plant and will come back year after year. Theoretically it blooms but I have never seen the flowers.
Type: Herbaceous perennial
Bloom: Fragrant, bright yellow flowers are 1" in diameter and are produced in spring.
Foliage: Lime green to yellow leaves are round and 1" in diameter.
Size: 4-6" H x 24" W
Light: Full sun to part shade
Soil: Fertile, moist
Fertilizer: No need for side dressing
Hardiness: Zones 3-8
Care: Pull out of areas where unwelcome.
Pests and Diseases: None
Propagation: Division in spring or fall.
Companion plants: Purple leaved plants like Heuchera 'Palace Purple', ajuga 'Burgundy Glow', and black mondo grass; variegated hosts; impatients.