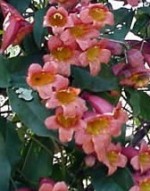 Growing in open woods, swamps, fields borders, and cliffs from Maryland to Missouri, south to Florida and east Texas, cross vine is a tough native that will quickly grow 8 feet or more to cover a trellis, arbor, masonry wall, or tree up to 50 feet tall. It climbs by tendrils and clings to stone and brick but needs help twining. The wiry vine has glossy lance-shaped semi-evergreen leaves that turn reddish purple in the fall. Two inch long trumpet shaped red or yellow flowers are borne in clusters of two to five in spring to create a colorful display and attract hummingbirds and butterflies. It grows well in a wide range of soils in both sun and partial shade and tolerates wet and dry conditions as well as compact soil. Cross vine spreads by stolons and can become invasive. If you cut the vine across you will see a cross shaped pattern that gives the vine its common name, cross vine.
Type: Semi-evergreen vine
Bloom: Trumpet shaped, two inch long red or yellow flowers are borne in clusters of 2-5 in spring and periodically until fall. May have mocha fragrance.
Foliage: Glossy dark green lanced-leaves are four to six inches long and 2 inches wide, and turn reddish purple in fall.
Size: Up to 50'
Light: Full sun to partial shade
Soil: Average to rich, moist to dry, slightly acidic to moderately alkaline
Hardiness: Zones 6-9
Care: Help with twining; plant away from walks to avoid a mess from sticky leaves.
Pests and Diseases: Relatively resistant to pests and diseases.
Propagation: Division
Outstanding Selections:
'Dragon Lady' (more reliably hardy in zone 6 and more tolerant of dry to moist soils than species)
'Tangerine Beauty' (more floriferous than most and more orange colored than species)