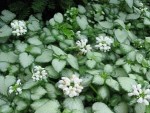 The white flowers of this fabulous ground cover are charming but the foliage makes it outstanding! Plant it in a shady spot and both the flowers and foliage will brighten even the darkest corner. The green leaves with silver mottling are the main attraction and are complemented by the white flowers. Another cultivar 'beacon Silver' shares the mottled foliage but has pink flowers. 'White Nancy' is a forgiving plant and tolerates a wide range of light conditions from shade to full sun and almost any soil. It is drought tolerant and will grow in dry shade under trees. Wow! How many plants can you name that do that? It is vigorous and fast growing but does not become a nuisance. And if you need a silver leafed plant for a container, guess what? 'White Nancy" will fill your need.
Type: Herbaceous perennial.
Bloom: White.
Size: 12″ H x 24-36+" W.
Light: Semi shade to part sun.
Soil: Average soil of almost any type including clay.
Hardiness: Zones 4-9.
Care: Warm growing conditions may cause 'White Nancy' to become scraggly which can be corrected by cutting back the foliage to within a few inches high. The new plants will be more compact and will look attractive through fall.
Pests and Diseases: None of importance.
Propagation: Division or cuttings any time during the growing season.
Companion plants: Spring bulbs such as glory-of- the snow, crocuses, and squills; fringed bleeding heart, hostas, ferns, and European wild ginger; under azaleas and rhododendrons.