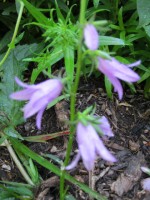 When I first introduced this plant into my garden I was delighted. It grew form a rosette of leaves and bore blue bell shaped flowers on a 24" stem for weeks in summer. Blue flowers are always welcome as are spike shaped inflorescences so Ladybells was one of my prized possessions. It grew quickly and spread into a nice hefty mass; it even spread to a bed several yards away. It was wonderful! Then it started invading other groups of flowers like coneflowers, day lilies, and garden phlox where it was very difficult to weed out. I tried to dig it out but the mass of roots was so thick I had to get the head gardener to assist in plant removal. It is still with me even though I have moved my garden from Maryland to North Caroline and did not deliberately take it with me. I can not deny, however, that it is a very pretty plant, adds a vertical accent, and is more heat tolerant than its look-alike cousins, the campanulas. In fact, it is a good substitute for campanulas in southern gardens. If you want to grow it, however,  provide a barrier or plant it in a tub and sink the tub in the garden so it won't spread underground; and deadhead faithfully so the seeds will not find their way to a place where you don't want them. Ladybells are lovely massed in borders and make good cut flowers.
Type: Herbaceous perennial.
Bloom: Lilac-blue bell shaped nodding flowers are borne on spike between late spring and summer.
Size: 18-24" H x 24-30" W (sic).
Light: Full sun to part shade.
Soil: Average, medium, well drained but prefers organically rich, moist soil.
Hardiness: Zones 3-9.
Care: Plant in container to restrain growth and deadhead to prevent reseeding.
Pests and Diseases: Slugs and snails can be a problem.
Propagation: Division; seed.
Companion plants: Lemon yellow daylilies, lantana, coreopsis 'Moonbeam'.