A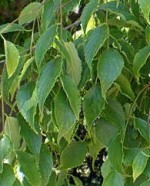 lso known as nettle tree, European hackberry is a medium to large deciduous tree native to southern Europe, North African and Asia Minor. It has a straight trunk, many small lateral branches, a rounded crown, and a dense canopy that casts heavy shade. The bark is smooth and grayish brown; the sharply toothed, ovate to lanceolate leaves are two to six inches long by one to two inches wide and are dark gray-green above, paler and slightly hairy below. The flowers appear in the spring and are small, lack petals and are not ornamental. The small purple one-seeded fruits that follow in the summer and fall are 1/2" in diameter and are attractive to birds. Although the tree is not very hardy it is easy to grow and tolerates drought, wind, dust, and various urban pollutants so is a good choice for use as a shade tree, street tree, or screen in difficult sites. It is related to the elm, and has been used as a substitute for it.
Type: Deciduous tree

Outstanding Feature: Canopy for shade
Form: Rounded crown
Growth Rate: Moderate
Bloom: Small, inconspicuous, apetalous flowers in spring
Size: 40-80' H x 40-50' W
Light: Full sun
Soil: Average, medium moist, well-drained but tolerates less including drought
Hardiness: Zones 8-9
Care: Prune in winter or early spring if necessary.
Pests and Diseases: Generally pest free but susceptible to witches broom, hackberry nipple gall, powdery mildew, leaf spot, root rot, lacebugs and scale.