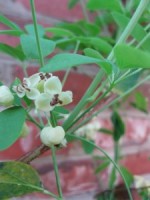 When we moved to our new house in the winter of 2006 there was nothing but mud and one lone tree outside. The property had been an old tobacco farm and had been striped of its trees long ago. Our task was to put in a garden as quickly as possible and the landscaper who pushed our mud around recommended akebia for a site where we needed something to quickly cover a wall. We took his advice, bought two akebias, planted them, and by summer were whacking them back. Akebia make a road runner look like its loafing. Its speed of growth, however, is not its only virtue; it can be planted anytime you can dig a hole for it, will prosper in almost any soil type, and in most light except dense shade. As a twining vine it can be grown to cover walls, pergolas, or arbors espalied, or as a ground cover. It blooms with a very unusual flower borne in groups of 3-5 and has dark blue green foliage that is semi-evergreen. Our vine has never produced fruit but some vines do and they can be messy.
Our akebias are still on the original wall and have learned to behave themselves; they get along just fine with the roses growing with them and the akebias look good long after the roses have gone dormant for the winter.
Type: Deciduous to semi evergreen vine.
Bloom: Small, creamy white fragrant flowers in summer.
Size: 20-40' length.
Light: Full sun to part shade.
Soil: Average, moist, well drained.
Fertilizer: Slow release general fertilizer in spring; add lime into acid soils.
Hardiness: Zones 5-8.
Care: Prune immediately after flowering as necessary.
Pests and Diseases: Susceptible to aphids (remove with sharp spray of water)
Propagation: Softwood cuttings.
Companion Plants: Crape myrtle, butterfly bush.