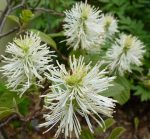 Native to moist areas of Southeast US, this compact deciduous shrub is a member of the witch hazel family, Hamamelidaceae, that also includes Persian ironwood, and loropetalum.  Growing up to 4′ tall and wide, it  has dark green, oblong to ovate, pubescent leaves that are up to 2.5″ long and have teeth along their upper margins.  In the fall the leaves turn yellow, orange, red, and violet and provide fall coloration.   In spring, before the leaves apper,  dense, terminal bottle brush-like spikes of flowers emerge.  The  spikes are 1-2″ long and the flowers  are white tinged wth green when first open.  The flowers are fragrant but lack petals and have conspicous  stamens that create the brush like appearance.  The plants bloom with the dogwoods, azaleas, and cherry trees and are especially appealing.  The flowers are good in fresh arrangements. The genus name,Fothergill, honors the Englsh physician and botanist, Dr. John Fothergill (1712-1780).  The specific epithet, gardenii, honors the Scottish physician and plantsman, Alexander Garden (1730-1791) who found, described, and introduced the plant into England.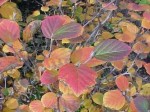 Type: Deciduous shrub.
Outstanding Feature: Autumn colortion
Bloom: White apetalous, 2" long fragrant flowers in mid spring.
Size: 1.5-4' H x 1.5-4' W
Growth Rate: Slow
Light: Full sun to part shade.
Soil: Average, evenly moist, well-drained, acidic soil but tolerates less than ideal conditions.
Fertilizer: Apply slow release fertilizer for acid loving plants in spring around the drip line making sure that it does not touch the root collar at the base of the plant
Hardiness: Zones 5-8.
Care: Thin the plant after blooming in its early years to produce an open form. Water well during periods of drought. A 3" layer of pine needle mulch will preserve moisture and improve the soil.
Pests and Diseases: None of importance; good disease resistance.
Propagation: Rooted stem cuttings June-September.
Companion plants: Azaleas, rhododendrons, loropetalum; a backdrop of evergreen shrubs will set off the flowers.
Outstanding Selections:
'Mt Airy' i  (a little larger than the species but with more flowers and better fall color)
'Harold Epstein' ( 2' x 2' but  not as colorful as the species)
Photo Credit: Wikipedia