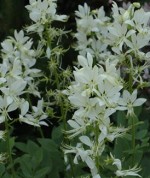 The common name "gas plant' surely piques the curiosity about this plant which is a fine garden specimen as well as a curiosity. According to the story the common name comes from the fact that the daughter of the Swedish botanist Carolus Linnaeus was able to ignite the volatile oils from the plant on a windless, hot summer day. Don't count on being able to repeat this event and instead rub the leaves and enjoy the lemon like smell of the oils. Better yet, enjoy the beautiful spikes of white to purple to flowers with their long stamens and the handsome finely toothed pinnately compound leaves. The stems are sturdy with a woody base and do not require staking. The plants are difficult to propagate and take a while to get established but they develop into large clumps and are long lived. Gas plants do best where nights are cool but can be grown in the South.
Type: Herbaceous perennial
Bloom: White to purple flowers one inch long with exserted stamens are produced in terminal racemes in early summer; attractive seed pods.
Foliage: Finely toothed, pinnately compound leaves are glossy green.
Size: 3-4' H x 3' W
Light: Full sun
Soil: Average, well-drained
Hardiness: Zones 3-8
Care: Two year old plants will take about two years to become established; do not transplant.
Pests and Diseases: None of significance
Propagation: Seeds are very difficult to germinate and may require up to a year; division and root cuttings can be done but tend to disturb the parent plant to much to be worthwhile.
Companion plants: Peach leaved bellflower (Campanula persicifolia), scabiosas, red beebalm, daylilies
Outstanding Selections: var. purpureus (soft mauve-purple with darker veins)
'Albiflorus' (white).