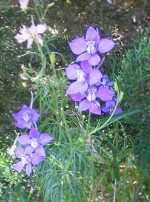 Also called doubtful knight's spur, rocket larkspur, this herbaceous cool weather annual is a member of the buttercup family, Ranunculaceae, that also includes anemone, hellebore, and columbine.   It is native to southern Europe and the Mediterranean area and is grown as commercially as a popular cut flower in the US.  Plants grow up to 4 ' tall and have deeply divided palmate leaves and racemes of spurred flowers, usually blue, sometimes pink or white.  Flowers appear in late spring and bloom well into summer in cool climates. Larkspur is very easy to grow and reseeds itself readily.   Most of the larkspur grown in gardens to day are hybrids and many good cultivars are available that differ in color and plant size.  The genus name ,Consolida, comes from the Latin word consolor,  meaning comfort or alleviate, and refers to the use of the plant to heal wounds.  The specific epithet, ajacis, honors the Greek hero of the Trojan War, Ajax. Plants are considered poisonous.
Type: Herbaceous annual
Bloom: Racemes of blue, white, or pink flowers in late spring
Size: 2-4′ H x 1.1.5 W
Light:Full sun
Soil:Moderately fertile, consistently moist, well-drained
Hardiness: N/A
Care:Deadhead to prolong bloom time.
Pests and Diseases: Powdery mildew, fusarium , especially when stress by wet soil or heat
Propagation:Seed (sow in fall in warm climates)
Companion Plants: Opium poppies, blue flax, bachelor's button
Outstanding Selections: 
'Carmine King' (3-4′ tall; carmine-rose)
"Cloudy Skies' (3′ tall; blue, purple, white, silver flowers)
'Imperial' (4′ tall; purple, blue, pink, white flowers)
Photo Credit: Wikipedia