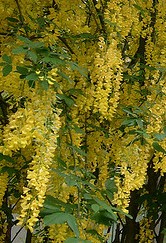 There is probably no more beautiful sight in the garden than a golden chain tree in bloom with its long dense pendulous chain of yellow pea-like flowers in spring. As the season progresses the small tree puts out finely-textured blue-green foliage with most leaves on the upper part of the tree so that the lower portions tend to be leggy. Unfortunately, the golden chain tree disdains climates with heat and humidity and is hardy only to zone 5 but if you live in an area where it can grow it is a spectacular beauty for about 10 days in May. Grow it as a specimen, in a group, or trained over metal archway as the British writer and gardener Rosemary Verey did for her famous laburnum walk. The Golden Chain tree may have health issues and tends to be short-lived.
Type: Small deciduous flowering tree
Outstanding Feature: Flowers in spring
Form: Upright, sparsely branched; looses lower branches
Growth Rate: Medium to slow
Bloom: Clusters of yellow pea-like flowers are borne in pendulous racemes up to 24' long in May to early June.
Size: 12-30' H x 9-12' W
Light: Full sun with shade at noon to dappled sun
Soil: Fertile, moist, well-drained, cool; pH tolerant
Hardiness: Zones 5-7
Care: Prune after flowering.
Pests and Diseases: Susceptible to canker disease and twig blight.
Propagation: Root cuttings; stem cuttings (in late fall or early winter); seed (saved, stored in refrigerator, and planted in until late summer); layering.
Outstanding Selection: 'Vossii' (denser habit; longest racemes)
Comment: Prefers a sheltered site protected from wind.