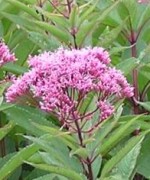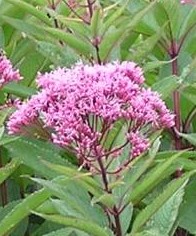 Joe pie weed is a clump-forming herbaceous perennial native to eastern and central North America where it grows in moist sites. It is a member of the aster family, Asteraceae, that also includes daisy, yarrow, and lettuce. Plants grow 5-7 ' tall and have green hallow stems with purple nodes and lance-shaped, coarsely-toothed dark green leaves that are 8-12″ long and carried in whorls of 3-5. From mid-summer to early fall tiny dull pink to purplish flowers appear in large, terminal domed clusters Each 12-18″ wide flowerhead consists of 5-7 vanilla scented flowers and give way to attractive seed heads that persist into winter. Both flowers and seed heads are attractive in dried arrangements.  The dried flowers can be used to form a light airy collar around  large flowerheads like hydrangeas. The flowers attract butterflies and the plants are deer tolerant. Planted in groups, Joe Pye weed is an excellent choice for back of the border in a cottage garden, native plant garden, butterfly garden or rain garden. The genus name, Eupatorium, comes from the Greek word εὐπατόριον (eupatórion) meaning agrimony, after Mithridates Eupator (134–63 BC), king of Pontus.  The specific epithet, purpureum, is the Latin word for purple and refers to the color of the flowers.
Type: Herbaceous perennial
Bloom: Tiny dull pink to purple flowers in large, terminal domed clusters, 12-18″ wide consisting of 5-7 vanilla scented flowers from mid-summer to early fall
Size:5-7′ H x 2-4′ W
Light:Full sun to partial shade
Soil:Average, medium moist
Hardiness: Zones 4-9
Care: Cut back after flowering to neaten up the garden.
Pests and Diseases: None of significance; powdery mildew or rust possible
Propagation:Stem cuttings
Companion Plants: Aster novae-angliae, Lobelia siphilitica, Monarda fistulosa, Rudbeckia laciniata, Solidago rugosa, Fireworks