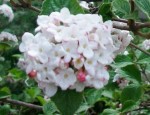 For a shrub with fragrant flowers you can't beat Koreanspice viburnum. The delightful spicy scent of this deciduous shrub can turn an ordinary area into a dreamy retreat so plant it where you can enjoy it. Even without fragrance the flowers would attract attention. They are borne in 3" clusters densely cover the bush in spring, beginning as dark pink buds opening to white. Although producing more flowers when grown in the sun, Koreanspice viburnum also blooms well with some shade. The gray-green to blue-green leaves are satiny and soft due to an abundance of fine hairs, and may take on a bronze or burgundy tint in good years if grown in the sun. Koreanspice viburnum is a member of the moschatel family, Adoxaceae, a small family that also include elders (Sambucus).  It is native to Korea and Japan.  The genus name, Viburnum, is the Latin name for the way-faring tree.  The specific epithet, carlesii, honors William Richard Carles (1848-1929, a plant collector in Korea.   
Type: Deciduous flowering shrub
Outstanding Feature: Clusters of very fragrant flowers in spring
Form: Upright, rounded, spreading with maturity
Growth Rate: Slow
Bloom: Dark pink buds open to white clusters of carnation-scented flowers 3" across; spring blooming; flowers last for about two weeks
Foliage: Gray-green to blue-green, dull, pubescent; opposite, simple, broadly elliptical to ovate; leaves may turn bronze or burgundy in fall when grown in a sunny location.
Size: 4-8' H x 4-8' W
Light: Full sun to partial shade
Soil: Organically rich , well-drained, lightly acidic
Hardiness: Zones 4-8
Care: Prune immediately after flowering if necessary
Pests and Diseases: None of significance but leaf spot and powdery mildew may impair appearance
Propagation: Rooted stem cuttings; seed
Outstanding Selections:
'Cayuga'; large flower clusters that open gradually; large, dark-green, shiny leaves