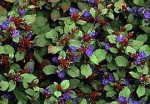 Plumbago is at the top of my list for ground covers blooming late in the season. It starts in mid summer with its vivid blue flowers and continues well into fall until the first frost. This blue color is really an eye catcher and is especially welcome at this time when few other blue flowers are blooming. As the flowers fade and fall they leave red calyxes behind that add another color to the garden. As if that is not enough, the shiny, oval green leaves turn bronze-red as the temperatures drop. This displays takes place in sun or part shade as long as moderate moisture is available. This is an excellent companion for spring bulbs as the foliage does not emerge until after the bulbs have bloomed and when their foliage is dying back.
Type: Perennial.
Bloom: Small vivid blue flowers are borne from late summer into follow followed by red calyxes as the flowers fall.
Size: 8-12" H x 12-14" W.
Light: Full sun to light shade; afternoon shade in the South.
Soil: Average, moist, well-drained.
Hardiness: Zones 6-9.
Care: Cut back woody stems in late winter to stimulate new growth.
Pests and Diseases: Root rot may be a problem in wet soils.
Propagation: Cuttings in early summer; divisions in spring.
Companion plants: Spring bulbs; underplanting for shrubs.