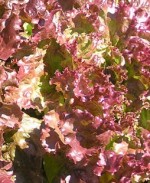 Growing lettuce is always successful if you start early in the season but bolting ultimately ends the lettuce crop in my garden as the summer heat rolls in. 'Red Sails', an All American Selection winner, is heat tolerant and so is slow to bolt. Yes, it does bolt, but later than other lettuces and that is a huge advantage in warm areas. But the late bolting is not the only virtue of this fine lettuce. It has large bronze-red, ruffled, crinkly, leaves and mixes well with other greens to make any salad look festive. The leaves hold their color well and are a knock-out in the fall. With a bitter-free flavor and soft texture 'Red Sails' has six times the vitamin A and three times the vitamin C as the head lettuce you buy at the grocery store. Grow it in the vegetable garden, in a container, or in your flower bed (as an edging), 'Red Sails' is a beauty.
Days to Harvest: 40-45.
Planting Date: Early spring; late summer for fall crop.
Spacing: Plant ¼" deep, 4-6" in rows 12-18" apart.
Germination: 8-10 days.
Size: 6-8" H x 6" W.
Light: Full sun.
Water: Keep evenly moist; light and frequent.
Soil: Fertile, moist, well-drained.
Fertilizer: Apply 10-10-10 every few weeks.
Care: Cut leaves as needed being careful to leave the crown so new leaves will be produced.
Pests and Diseases: Slugs, snails.
Suitable for containers? Yes; soil depth of 6", regular watering and feeding.