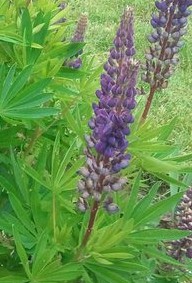 The showy three to four foot tall spikes of pea-like flowers in early and mid-summer make Russel hybrid lupines a garden favorite. Bred by George Russell in the early 1900s from Lupinus polphyllus, a species native to western North America, these lupines are the most widely grown today. The flowers range in color from blue, to pink, white, yellow, and red, with bicolors common, and are attractive to bees, butterflies and hummingbirds. The green leaves are palmately compound and consist of nine to seventeen leaftlets. The plants fix nitrogen in the soil and benefit from a legume inoculant. Although lupines are easy to raise from the seed, the seeds have tough seed coat and should be soaked overnight, abraded with sandpaper, or nicked before planting. Plants will self seed in the garden but will not breed true. Russell hybrid lupines are best grown in areas where summer temperatures are cool and do not do well in the heat and humidity of the South in zones 7 and warmer where they are best grown as annuals. Even under the best conditions, they tend to be short lived perennials.
Type: Herbaceous perennial
Bloom: Dense 10-12″ long racemes of blue, white, red, pink, yellow and bicolored flowers in early and mid-summer
Size: 3-4′ H x 1-1.5; W
Light: Full sun; some afternoon shade in hot summers
Soil: Fertile, organically rich, consistently moist, well-drained, slightly acidic
Care: Deadhead to maintain plant vigor; stalk in windy areas
Hardiness: Zones 4-8
Pests and Diseases: Powdery mildew, aphids, slugs, snails
Propagation: Purchased seed; side shoot cutting in spring and summer
Companion Plants: roses, peonies, oriental poppies, crainsbill.