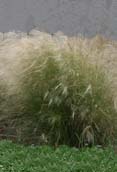 Also known as ponytail grass,  finestem needle grass, fineleaved nassella and Argentine needle-grass this perennial grass is native to south-western US, northern Mexico and Argentina.  It is a member of the grass family, Poaceae, that also includes rice, corn and bamboo.  The plant forms clumps 1-2″ tall and has silvery-green thread-like leaves and feathery flowerheads that sway in the slightest breeze, adding movement to the garden.  The leaves turn tan by late summer and continue to soften the landscape into winter.  Plants are are good choice for the border, walkways, meadow garden, and containers, and stems of flowerheads are beautiful in dried arrangements. Plants reseed and can become invasive.
Type: Perennial grass.
Bloom: Silky green feathery inflorescences are produced in spring and turn brown in summer.
Size: 1-2' H x 1-2' W.
Light: Full sun.
Soil: Thrives in fertile, moist, well drained soil but tolerates less as long as soil is well drained.
Hardiness: Zones 7-10.
Care: Old foliage can be trimmed in late winter to tidy up the garden.
Pests and Diseases: None of significance but susceptible to fungal problems especially if grown in poorly drained soil.
Propagation: Seed; division of clumps in spring.
Companion plants: Lamb's ear, Sedum 'Autumn Joy', and other coarse leaved perennials; false sunflower (Heliospsis helianthoides,) Stokes aster, coneflowers, blackeyed Susans (Rudbeckia sp).
Photo Credit: Wikipedia