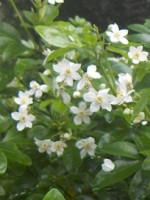 As it name suggests, Mexican orange is a member of the citrus family, and bears an abundance of similar, sweetly scented, white flowers but no edible fruits. The star-like flowers are about one inch across, have 4-5 petals and are produced in clusters of three to six. This evergreen shrub is very showy during its bloom time which lasts several weeks in spring and early summer.  Pruning about twelve inches off the flowering branches immediately after blooming encourages a second flush of flowers in late summer or early fall. The leaves have a strong pungent smell when bruised, are dark green and provide an excellent background for flowering perennials and annuals in a border or foundation planting. Plants are also useful for hedges and can be grown in containers. Site plants near outdoor living areas, entryways, walkways, and paths so the fragrance can be enjoyed. Flowers are long lasting in arrangements.
Type: Evergreen flowering shrub
Outstanding Feature: Fragrant flowers; attractive evergreen foliage
Form: Dense rounded mound
Growth Rate: Medium to fast
Bloom: Clusters of fragrant white flowers in late- spring to early summer with late summer re-bloom possible if pruned immediately after first flowering.
Size: 6-8' H x 6-8' W
Light: Full sun in areas with cool summers; partial shade in areas with hot summers; too much shade makes the plants leggy and prone to insect problems.
Soil: Fertile, organically rich, well-drained, acidic
Fertilizer: Top dress with manure in spring.
Hardiness: Zones 8-10
Care: Prune 10-12" inches off flowering stems immediately after blooming to encourage second bloom; prune yearly to maintain a compact form about 4-5 feet tall and wide.
Pests and Diseases: Aphids can be a problem
Propagation: Semi-ripe stem cuttings in summer with bottom heat
Outstanding Selection: ' Sundance' (golden foliage that changes to yellow-green).