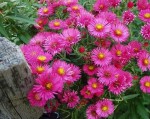 The bright vivid pink color of 'Alma Potschke's' daisy-like flowers is outstanding and goes looks terrific with both late summer and early fall flowers. Yellow flowers warm it up and blue flowers or silvery foliage cool it down. Either way it is a knockout. The medium height and compact habit of 'Alma Potschke' make it an excellent mid-border plant and its undemanding growth requirements make it easy to grow. Just to make it even more desirable, it attracts butterflies and bees and is deer and rabbit resistant.
Type: Herbaceous perennial.
Bloom: Bright, vivid pink daisy-like flowers up to 2 inches wide with yellow centers in late summer to early fall (about 6 weeks total). Flowers literally cover the plant with a blanket of pink.
Size: 2-3' H x 3' W.
Light: Full sun to light shade (especially afternoon in the South).
Soil: Average, moist, well-drained soil. Rich soil may make them floppy and require staking.
Hardiness: Zones 4-9.
Care: Pinch back in June (up to July 40) to encourage branching and formation of more flower clusters.
Pests and Diseases: Insects are not a problem but mildew can develop in humid conditions, when plants are stressed or when foliage is damp or wet for long periods of time.
Propagation: Dividing the plant every other year will provide new plants as well as refresh the old one. Division is best done in spring when stem cuttings may also be taken.
Companion plants: Ornamental grasses such as fountain grass (Pennisetum alopecuroides) and purple muhly grass (Muhlenbergia capillaries), artemsia such as Artemsia stelleriana 'Silver Brocade'. monkshood (Aconitum carmichaelii), garden mums (Chrysanthemum x morifolium), and hardy ageratum (Eupatorium coelestinum).