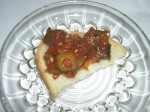 This is a delicious appetizer from Sicily, served on crisp lettuce, crusty bread, or crisp crackers. It can also be served as a vegetable with barbecued beef or lamb. I recently used it instead of spaghetti sauce for a meatless dinner and it was yummy. Serves 6-8 as an appetizer. Yield: 1 ½ quarts
Ingredients:
1 large eggplant about 1 ¾ pounds
salt
2/3 cup + 2 tablespoons olive oil
1 medium onion coarsely chopped
1 clove (or more) clove garlic, minced
1 can (16 oz) tomato puree
½ cup water
½ teaspoon dried crushed oregano
½ teaspoons dried crushed basil
¼ teaspoon pepper
2 cup sliced celery, coarsely chopped
1 ¼ cup pimiento-stuffed green olives, halved
1 tablespoons drained capers
1 tablespoons sugar
1 teaspoons red wine vinegar
2 tablespoons minced fresh parsley
Directions:
1. Wash and dry the eggplant; leave unpeeled, cut into 1 inch cubes, sprinkle with salt and put aside to drain for half an hour or so.
2. In a large skillet (12") or pan heat 2/3 cup (or less) olive oil, add eggplant and cook over moderate hear, stirring often until browned and almost tender. Remove from the pan.
3. To the same skillet add 2 tablespoons olive oil (or not…there is enough oil in the pan to go on without adding more). Add onion and garlic and cook, stirring often, until onion is golden.
4. Stir in tomato purée, water, oregano, basil, pepper, and celery and cover. Simmer about 30 minutes.
5. Add eggplant, olives, capers, sugar, vinegar and parsley. Mix, cover, and simmer until eggplant (skins) are tender. (15-30 minutes).
6. Cool, chill, and serve.
This is a classic recipe and so can be modified to suit any taste. I use the long thin purple (Japanese) eggplants and find that they are much more tender than the round kind so require less cooking. If you grow them, you will probably also find that the long thin kind are much more productive that the standard kind. I have so many that they almost chase me out of the garden.