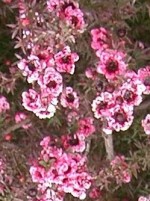 This evergreen shrub or small tree is upright, fine textured, and has dense branching. The narrow leaves are fragrant, dark green to bronze and prickly; the five petaled flowers are about 1 1/4 inches across, white or pink, and cover the branches from early spring to summer. Many cultivars have been developed varying in plant and flower size and flower color and petal number. Tall plants four to ten feet in height can be used as specimens, accents, or focal points while low growing forms eight to twenty-four inches tall can be used in rock gardens, containers, and borders. Some cultivars are attractive as ground covers although they do not suppress weeds. Tea trees prefer sunny sits with excellent drainage, are generally pest and disease free as well as drought tolerant once established. It does best where humidity is low and night temperatures are cool.
Type: Evergreen shrub or small tree
Outstanding Feature:Flowers
Form: Upright to prostrate depending on the cultivar
Growth Rate: Moderate
Bloom: White to pink flowers with five petals are produced from spring to summer.
Size: 8″ -10′ H x 8″-10′ W depending on cultivar
Light: Full sun
Soil: Average, well-drained, acidic
Hardiness: Zones 9-10
Care: Prune after flowering to shape and encourage bushiness.
Pests and Diseases: None of significance
Propagation: Cuttings in summer
Outstanding Selections:
'Kiwi' (24″ tall, deep pink)
'Gaiety Girl' (10′ tall, double pink).