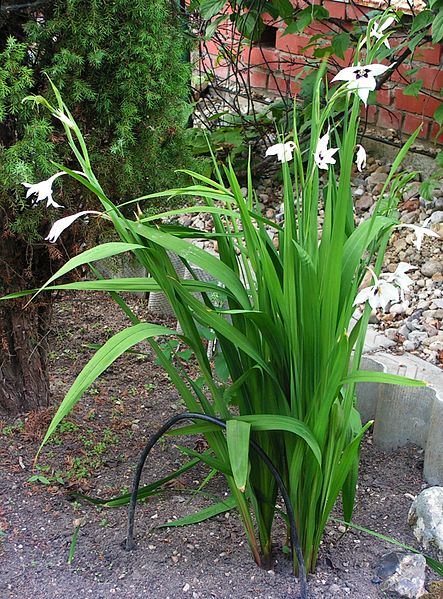 Also known as Abyssinian gladiolus and peacock orchid, this perennial corm is native to mountainous areas of eastern Africa and is a member of the iris family, Iridaceae, that also includes crocus, freesia, and Crocosmia. The plants produce a fan of medium green, sword-shaped leaves up to 2″ long. In late summer to fall spikes of 2-10 flowers appear on 2-3′ long scapes. The fragrant, white flowers are spreading, 2-3″ across, and have dark purple throats. The late bloom time makes peacock lily an especially good choice for a border when planted in groups of 10 or more and backed by a dark leafed plant like the canna 'Wyoming' with is dark bronze-red foliage. Peacock lily also does well in containers; place a pot where the pleasant fragrance can be enjoyed. The flowers are also useful in arrangements and have a long vase life when placed in floral preservative. The genus name, Gladiolus, is the Latin word meaning sword and refers to the shape of the leaves. The specific epithet, murielae, honors Muriel Wilson (1906-1976) daughter of E.H. Wilson who introduced over a thousand plants from China. Photo Credit Bff Wikimedia Commons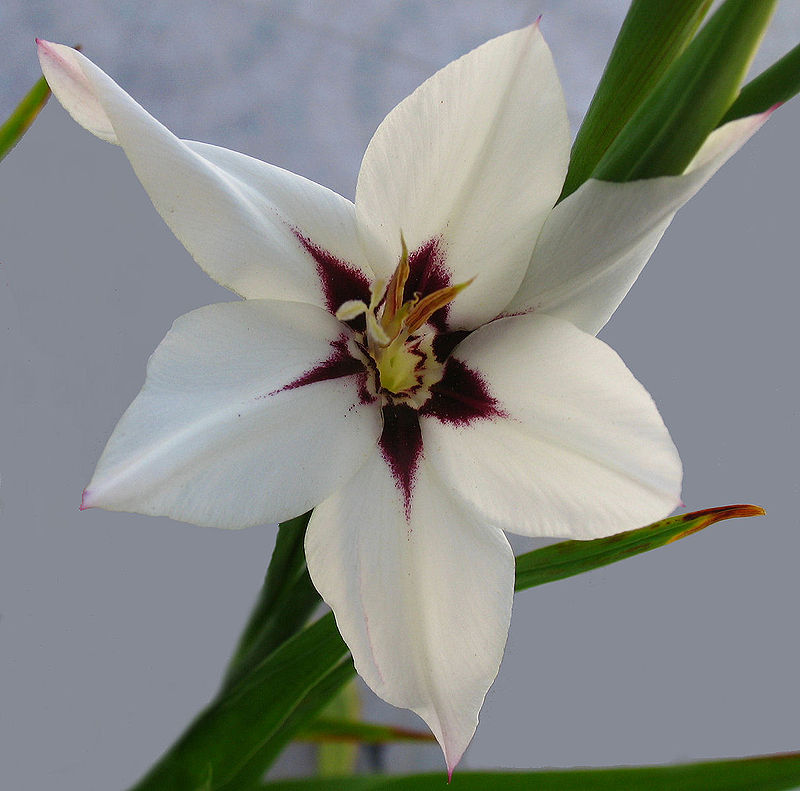 Type: Tender, deciduous corm
Bloom: Open, white, fragrant flowers 1-2″ wide from late summer into fall
Size: 2-3′ H x 5-6″ W
Light: Full sun
Soil: Fertile, consistently moist, very well-drained; do not let soil dry out.
Hardiness: Zones 7-10
Care: Plant 2-6″ deep on bed of coarse sand after all danger of frost. Although the corms may be left in the soil in zones 8 and warmer, they will decline and by the third year will cease to return. To prolong corm-life, dig in fall after flowering but before the first severe frost. Dry in a warm place, remove cormels and debris, and tore in a warm location (60-70 F) until spring.
Pests and Diseases: Aphids, slugs, trips, spider mites, mealy bugs; mosaic virus, botrytis, crown rot, rust, wilt
Propagation: Separation of cormlets
Companion Plants: Asters, black-eyed Susan, canna 'Wyoming' (dark foliage)
Outstanding Selections: None available
Photo Credit: Peter Forster Wikipedia