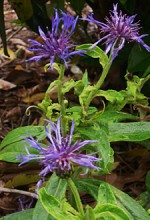 Also known as perennial bachelor's button and montane knapweed, this clump forming herbaceous perennial is native to the upper montaine and sub-alpine zones of Europe where it grows in meadows and open woodlands.  It is a member of aster family, Asteraceae, that also includes daisy, yarrow, and lettuce.  Plants grow 18-24″ tall from a stoloniferous root system and have gray-green lower leaves that are lanceolate and up to 7″ long.  In late spring to early summer unbranched stems carry solitary deep blue flowerheads that are 2-2.5″ wide and have reddish blue centers and black-edged involucre bracts.  Flowers are attractive in the vase and plants are useful in xeriscapes, borders, cottage gardens, and meadow gardens.  The genus name, Centaurea, is from the Greek word kentauros, the centaur of Greek mythology.  The specific epithet, montana, comes from the Latin word mons, meaning mountain, and refers to the natural habitat of the species.  Type: Herbaceous perennial.
Bloom: Two-2 ½" deep blue thistle-like flowerheads with rose center in late spring to early summer. Sparse rebloom in late summer-early all may occur. Shingle-like involucre bracts around the flowerheads are edged with black.
Size: 1 ½-2' H x 1-2' W.
Light: Full sun-part shade but may become lanky in too much shade.
Soil: Average, dry to medium, well drained soil; does not like wet feet.
Hardiness: Zones 3-8.
Care: Remove spent flowers stems to ground level; may be pruned back hard in mid summer to encourage compact habit; divide plants every 2-3 years where vigorous.
Pests and Diseases: None of importance but susceptible to aphids, leaf hoppers, rust, aster yellows and stem rot.
Propagation: Reseeds; spreads by stolons; division.
Companion plants: Catmints (Nepeta spp.), pink azaleas, lupines, hardy geraniums lady's mantle, Shasta daisy.
Outstanding Selections:



'Gold Boullion' (blue flowers with chartreuse foliage)
For more information on Mountain Bluet and other perennials you might like to read Allan Armitage's fabulous book that gives all kinds of information on a vast number of perennials in an interesting and witty conversational style.  I take it with me to garden centers and consult it before buying any plant I have not grown before.  Especially valuable for propagating plants vegetatively or from seed and on the probable success of growing plants in different parts of the country.
Buy "Herbaceous Perennial Plants: A Treatise on Their Identification, Culture, and Garden Attributes" from Amazon.com.