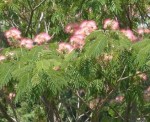 A native of southwestern and eastern Asia, Persian silk tree, sometimes called mimosa, and is a member of the legume family that also includes beans, lupine clover.  It  is a popular tree for small gardens where it can provide dappled shade with its feathery light green foliage, and color in summer with its abundant clusters of pink powder puff-like flowers. Further interest is provided in fall by the long, green, pea-like pods that turn deep brown by season's end. They split open to reveal seeds that are appealing to visiting birds. Use in a tropical garden with hibiscus and gardenias that will appreciate a little shade when temperatures rise. Avoid sites with extended periods of drought, wind or heat.  The genus name honors the Florentine nobleman Filippo degli Albizzi, who introduced the plant to Europe in 1749. The specific epithet, julibrissin, is a corruption of the Persian word gul-i abrisham that means silk flower.
Type: Deciduous tree
Outstanding Feature: Flowers
Form: Vase-shaped
Growth Rate: Moderate to rapid
Bloom: Clusters of pink flowers with long silky stamens in summer
Size: 30' H x 30' W
Light: Full sun
Soil: Average, moist, well-drained, pH 6.5-7
Fertilizer: Apply ammonium phosphate (16-20-0) or acid food (6-10-4) in early spring to maximize bloom.
Hardiness: Zones 7-11
Care: Prune in late winter or early spring to maintain form. Deadhead flowers if pods are not wanted.
Pests and Diseases: Aphids in spring; susceptible to spider mites, whiteflies, cottony scale, webworm and mimosa wilt.
Propagation: Seed, semi-hardwood cuttings in summer, and root cuttings in winter
Outstanding Selections:

'Rosea'
(deep pink flowers, smaller size)

'Alba'

'Summer Chocolate'
Comments: Leaves and seed pods can be composted.