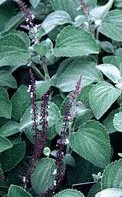 Silver spurflower is a tender evergreen subshrub in the mint family (Lamiaceae) and native to eastern Australia. The downy pink-purple stems carry gray-green ovate leaves up to six inches long and with scalloped margins. The leaves are covered by fine silvery hairs and are lighter on the top than the bottom. In mid- to late summer flowers are produced in twelve inch long terminal racemes and are bluish white. Good choice for borders, beds, containers, and houseplant. Plants are easily grown from cuttings.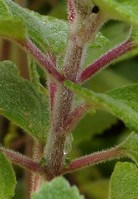 Type: Tender, subshrub grown as annual or container plant
Outstanding Feature: Silver foliage
Form: Spreading
Growth Rate: Rapid
Bloom: Bluish white flowers in terminal racemes 12" long in mid- to late summer
Size: 2-3' H 2-6' W
Light: Part or dappled shade
Soil: Average, humus-rich, medium moist, well-drained; tolerates some dryness.
Hardiness: Zones 9-10
Care: Prune to maintain size and shape; prune hard every two to three years in late winter to early spring to rejuvenate.
Pests and Diseases: Generally disease and pest free but susceptible to mealybugs, scale, mites, root rot, and leaf spot.
Propagation: Seed; cuttings of new growth anytime; division mid- to late spring.
Outstanding Selection: 'Silver Shield' (more compact than the species)