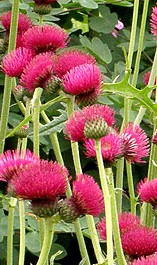 Plume thistle 'Atropurpureum' is a clump forming perennial that provides an architectural element in the garden. It has a branched, smooth, almost leafless stem that arises from a basal rosette of spiny leaves. The spherical, deep red flowerheads are an inch across and borne singly or in clusters from early summer to fall if carefully deadheaded. The flower heads attract bees the seed heads attract birds, and the flowers are good in the vase. The specific epithet, rivulare, means book loving referring to the moist habitat favored by the plant.

Type: Herbaceous perennial
Bloom: Deep red, inch wide spherical flowers are borne singly or in cluster atop almost leafless stems from beginning in early summer and continuing until fall.
Size: 4' H x 2' W
Light: Full sun but tolerates some shade
Soil: Fertile, moist, well-drained, acidic; but tolerates some dryness
Hardiness: Zones 4-8
Care: Cut back spent flower heads with their stems as the flowers fade to extend the flowering season; cut down the whole stem to the ground in the fall after the first frost.
Pests and Diseases: Powdery mildew
Propagation: Division in spring or autumn
Companion plants: Papaver 'Patty's Plum' , Astrantia'Moulin Rouge', Luzula nivea