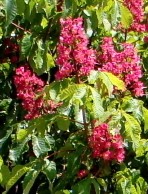 This small to medium, deciduous, flowering tree is a hybrid between Aesculus hippocastaneum, native to southeastern Europe, and Aesculus pavia, native to Southeastern United States, probably originating in Germany in the early nineteenth century. The tree is outstanding in mid-spring when it bears showy upright pink to red terminal panicles five the eight inches long. The flowers are followed by capsules 1 to 1½" in diameter with prickly brown husks, usually containing two to three poisonous nuts. The large palamately compound leaves have five leaflets and are dark green, turning brown in the fall. The tree is pyramidal when young and becomes broadly rounded in maturity. Red horsechestnut is a beautiful tree and can be used as a lawn or shade tree. Because it is subject to leaf scorch it does best in moist cool environments and should be protected from wind. More disease resistant and drought tolerant than A. hippocastaneum but both leaves and fruits can cause a litter problem.
Type: Deciduous flowering tree
Outstanding Feature: Flowers
Form: Pyramidal in youth, rounded crown in maturity
Growth Rate: Slow to medium
Bloom: Five to eight inch long panicles of pink to red flowers in spring followed by capsules in brown prickly husk containing two to three poisonous nuts.
Size: 30-50' H x 25-35' W
Light: Full sun to partial shade
Soil: Average, moist, well-drained
Hardiness: Zones 4-8
Care: Twigs, leaves, and fruit removal
Pests and Diseases: Leaf blotch can be serious problem; powdery mildew, leaf spots; Japanese beetles, borers, bagworms.
Propagation: Seed, grafting
Outstanding Selection:
'Brioti' (Bright red, 9" panicles of flowers)
'Fort McNair' (pink flowers with yellow throats).