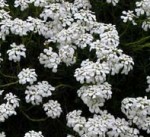 Rock candytuft is a perennial subshrub with a woody base native to the western Mediterranean. It is a member of the mustard family, Brassicaceae, that also includes rockcress, alyssum, and broccoli. The brittle stems carry leaves ¾ inch long and are either flowering or non-flowering. The four petaled flowers are produced in flat terminal umbel-like clusters ½ inch long in spring and cover the plant. The petals are white but often tinged with purple, especially as they fade. Plants are evergreen in warmer climates but often become unattractive during the winter in cold areas. A good choice for the front of the border, a rock garden, or container. The generic name Iberis refers to Iberia where the plant is commonly found The specific epithet saxatilis comes from the Latin word saxitilis meaning found among rocks and refers to the habitat of the plant.
Type: Perennial subshrub
Bloom: Flat terminal, umbel-like clusters of 4 petaled white flowers with purple tinge as they fade, in spring
Size: 3-6" H x 6" W
Light: Full sun for best flowering; tolerates some shade
Soil: Average, moderately moist, very well-drained
Hardiness: Zones 2-7
Care: Cut back after blooming by 1/3 to maitiain attractiveness.
Pests and Diseases: Susceptible to downy mildew, powdery mildew, crown rot, club root, gray mold, rust, fungal leaf spot, and damage by slugs, snails, and caterpillars.
Propagation: Seed, division
Companion Plants: Spring bulbs, Iris reticulata, basket of gold (Aurinia saxatilis), creeping phlox (Phlox sublata), rock cress (arabis spp), forget me nots (Myosotis spp)