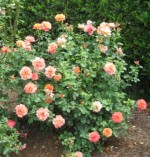 When they named this floribunda rose "Easy Does It', they weren't kidding around. It is easy to grow, disease resistant, and a virtual flowering machine. Week after week a single bush pumps out an abundance of flowers in blends of mango orange, peach, pink and apricot. Each flower has a fruity fragrance and about 25-30 ruffled petals. The full, rounded, 3-4' tall bush bears glossy green leaves fts into a border nicely, filling it with color through the whole season. No wonder it was the All America Rose Selection Winner for 2010!
Type: Shrub
Outstanding Features: Color and abundance of flowers; disease resistance
Form: Rounded
Growth Rate: Medium
Bloom: Flowers orange, peach, apricot blend,  3 ½"  wide spring to fall.
Size: Bush 3-4' H x 3-4′ W
Light: Full sun
Soil: Fertile, light, moist, well-drained (like most other roses)
Fertilizer: Apply high nitrogen fertilizer in the spring as soon as growth begins and every 6-8 weeks during the growing season, ending in late summer.
Hardiness: Zones 6-9
Care: Prune in spring; water 1"/week during the growing season; deadhead to encourage flowering.
Pests and Diseases: Although disease resistant, may be susceptible to all the common rose diseases and pests such as black spot, mildew, botrytis, mites, aphids and Japanese beetles. Adequate water, good air circulation, and regular fertilizing to maintain good growth are the best preventatives but systemic spray applied every 2 weeks may be necessary to ensure full potential.
Propagation: Cuttings.