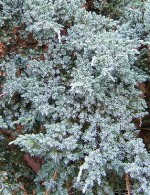 This native of Asia is an evergreen shrub that may be an upright shrub or tree or dwarf, prostrate ground cover. It is of medium texture with awl-like grayish green to silvery blue-green needles that take on a bronze or purple tinge in winter. Dead needles tend to remain on the plant for a considerable amount of time and are often unattractive. Female and male cones are usually produced on separate plants with female cones producing small one-seeded reddish brown fruits that mature to black. The bark is red-brown and flaky. The species is rarely grown but several cultivars are available with six foot tall, shapeless 'Meyeri' being the old standby. 'Meyeri' is 6' tall, open, vase-shaped, and has a blue color that fades as it ages. More recently improved cultivars have been introduced that are low growing and have a more attractive and long lasting blue color. These low growing cultivars are especially popular as ground covers, in rock gardens, and in containers. Larger cultivars are attractive massed, as specimens, or in foundation plantings. Singleseed juniper is not tolerant of the heat and humidity of the Deep South.
Type: Evergreen small tree or shrub; may be low growing
Outstanding Feature: Blue color of foliage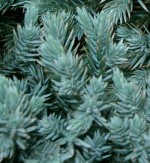 Form: Upright to low mound
Growth Rate: Slow to medium
Bloom: Male and female cones are usually on separate plants; female cones develop small single seeded reddish brown fruits that mature to black.
Size: 1-25' H 1-16' W
Light: Full sun
Soil: Average, medium dry, well-drained; pH adaptable
Hardiness: Zones 4-9
Care: Low maintenance
Pests and Diseases: Susceptible to bagworms and spider mites; rot can be a problem in overly moist soil
Propagation: Cultivars by cuttings
Outstanding Selections:
'Blue Star' (very blue, dense, rounded, small, growing to 2')
'Blue Carpet' (ground hugging, spreading with blue-green color)