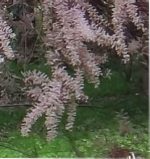 Smallflower tamarisk is a deciduous shrub or small tree native to southeastern Europe but has become as an introduced species in the US has become invasive in western North America.  It has a deep tap root,  rough reddish bark, and low branching rounded habit with many long, slender branches. The linear bright green leaves are scale-like and about 1″ long. The tiny light pink flowers  have four petals and appear in short clusters 1-1.5″ long in early spring on the previous year's growth.  Plants need full sun and tolerates almost any soil including saline.  They also tolerate salt air, wind, and desert conditions.    Because of its invasive tendencies especially in moist soil, smallflower tamarisk is not recommended for garden use in most locations but can be useful as a hedge or screen and is sometimes used for bonsai.  The genus name, Tamarisk, is the Latin name for the plant.  The specific epithet, parviflora, comes from the Latin words parvus meaning small, and flos meaning flower.
Type: Deciduous shrub or small tree
Outstanding Feature: Flowers; drought and salt tolerance
Form: Rounded
Growth Rate: Moderate to rapid
Bloom: Tiny pink 4 petaled, in 1-1.5″ clusters in early spring
Size: 10-20′ H x 12-20′ W
Light: Full sun
Soil: Average to lean, moist to dry, alkaline, acid, neutral, saline
Hardiness: Zones 4-8
Care: Prune after flowering to shape;  can be cut back to the ground.
Pests and Diseases: None of significance
Propagation: Seed, cuttings
Comments: Tolerant of seaside conditions; can be invasive.
smallflower tamarisk.[1]  E. Europe – Balkans, Aegean.
It is native to southeastern Europe but it is well-known elsewhere, such as western North America, where it is an invasive introduced species.
It easily inhabits moist habitat, especially in saline soils. It is a shrub or tree growing up to about 5 meters tall. The branching twigs are covered in tiny linear leaves no more than 2 or 3 millimeters long. The inflorescence is a dense spike flowers 1 to 4 centimeters long. Each tiny flower has four pink petals.
 12-15 ft (3.5-4,5 m); sprawly, twiggy.  Leaves alternate, simple, lanceolate, scale-like, 3 mm long (similar to juniper foliage).  Flowers very small (parviflora = small flowered), light pink, 4-parted, in 3-4 cm long clusters, bloom in spring.
Sun, well-drained soil; develops a deep tap root and is drought tolerant.   Should be pruned hard after bloom to maintain graceful appearance.  Can be propagated by sticking a cutting in the ground at the beginning of winter.  Sometimes used in bonsai.
Hardy to USDA Zone 4      Native to southeastern Europe
Occasionally used in bonsai.
E. Europe – Balkans, Aegean.

amarix parviflora is a deciduous Shrub growing to 4.5 m (14ft 9in) at a medium rate.
It is hardy to zone (UK) 5. It is in flower from April to May. The species is hermaphrodite (has both male and female organs) and is pollinated by Insects.
Suitable for: light (sandy), medium (loamy) and heavy (clay) soils, prefers well-drained soil and can grow in heavy clay soil. Suitable pH: acid, neutral and basic (alkaline) soils and can grow in very alkaline soils.
It cannot grow in the shade. It prefers dry or moist soil. The plant can tolerate maritime exposure.


n easily grown plant, succeeding in most soils and tolerant of saline conditions[11]. This species is not found in saline soils in the wild and so might not be tolerant of them in cultivation[K]. Grows well in heavy clay soils as well as in sands and even shingle[182]. Usually found near the coast, it succeeds inland if given a fairly good deep loam and a sunny position[11, 200]. Tolerant of maritime winds and dry soils when grown near the coast[11], plants require a moister soil and shelter from cold drying winds when they are grown inland in non-saline soils because they use the soil salts that are found in saline soils to help them reduce transpiration[200]. Plants flower mainly on wood produced in the previous summer[227]. Growth can be restricted by cutting back the plants after they have flowered in the spring, hedges are also best trimmed at this time[188]. Closely related to T. tetrandra. Plants in this genus are notably resistant to honey fungus[200].