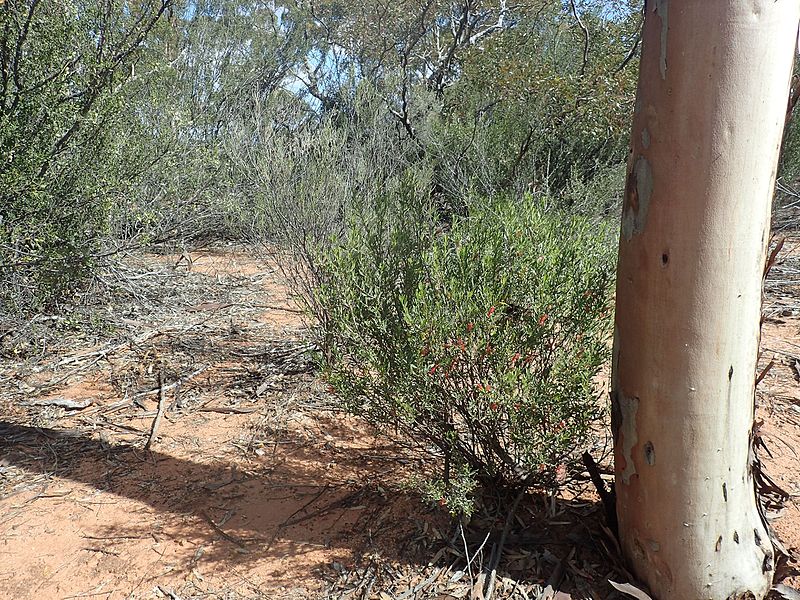 Also known as spotted fushia-bush, this evergreen shrub is endemic to southern Australia, and a member of the figwort family, Scrophulariaceae, that also includes mullein, butterfly–bush, and Diascia. The plants are densely branched, grow up to 8′ tall, and may be spreading or erect. The gray-green leaves are .1″ to 2″ wide and vary is shape from thread-like to almost circular. The tubular flowers appear singly in the leaf axils in late winter to spring, and periodically thereafter. They are up to 1″ long, have 5 petals that may be pink, mauve, red, orange, or yellow, and usually have distinct spots and hairs inside the flower tubes. The flowers attract hummingbirds and butterflies and give way to dry, round fruit with a beak. Spotted emu bush grows in a variety of soils and is salt and drought tolerant. It is very popular in dry regions of the US like New Mexico and Arizona where it is used for both public and private landscaping. The genus name, Eremophilia, is from was Greek words erêmos meaning lonely or desert and 'phílos' meaning dear, beloved and refers to the plants in the genus growing in arid climate locations. The specific epithet is the Latin word meaning spot, stain or speckle and refers to the markings on the petals.
Photo Credit Geoff Derrin Wikipedia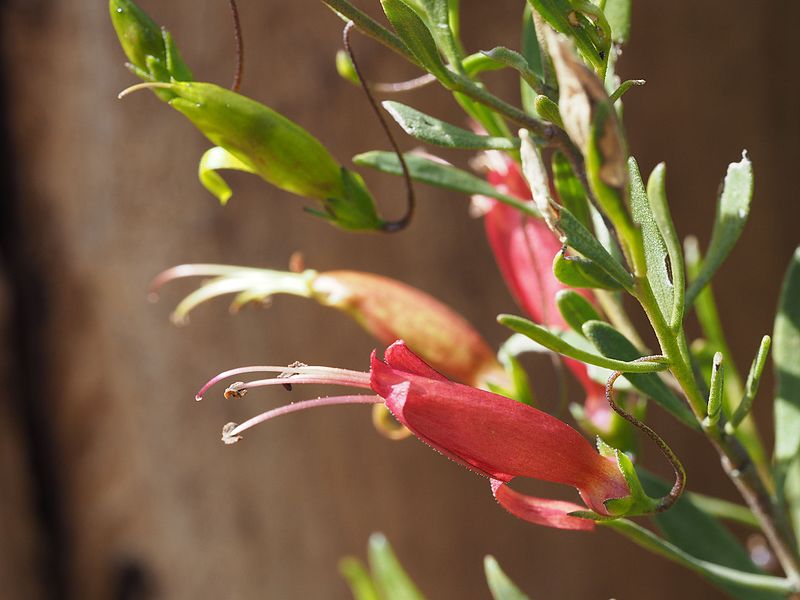 Type: Evergreen shrub
Outstanding Feature: Flowers
Form: Mound
Growth Rate: Slow to moderate
Bloom: Tubular flowers with 5 pink, mauve, red, orange or yellow petals from winter to spring and periodically thereafter
Size: 4-8′ H x 4-5′ W
Light: Full sun to part sun
Soil: Average, moderately moist, well-drained but tolerates some water-logging as well as drought, salt, and alkaline conditions.
Hardiness: Zones 9-11
Care: Prune when young to encourage bushiness. prune or shear annually in late spring to encourage bloom the following year; size and bushiness can be controlled by increasing or decreasing water.
Pests and Diseases: None of significance
Propagation: Tip cuttings, seed
Outstanding Selections:
'Aurea'
'Beer Keg'
'Carmine Star' (pink-red flowers)
' Diablo Valley' (red flowers, tall, erect)
'Lutea' (yellow flowers)
"Valentine' (blooms around Valentine's Day)
'Winter Gold'
Photo Credit: Geoff Derrin Wikipedia