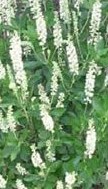 This suckering deciduous shrub is native to eastern North America where it ay form dense colonies in moist to wet areas in woodlands and along the sea coast from Maine to Florida. The mid- to dark green leaves leaf out late and change to golden yellow in the fall, providing color for two to four weeks. The small fragrant white to pink flowers are carried in four inch long bottlebrush-like racemes in mid- to late summer and last about three to six weeks. The flowers are attractive to butterflies and bees and give way to seed capsules that persist into winter but are not considered ornamental. In winter without its leaves, the shrub is neat and attractive with a medium texture. Although sweet pepperbush prefers fertile, moist, acidic soil and part shade it tolerates dry to wet soil, full sun to full shade, and salt spray so is a valuable shrub for difficult sites. It tends to sucker and get leggy with age but these problems can be solved by removing the suckers and heavy pruning to encourage compactness. A good choice for a foundation planting, border, hedge, specimen, rain garden, or naturalizing.
Type: Deciduous shrub
Outstanding Feature: Fragrant, bottlebrush-like flowers; autumn coloration
Form: Upright, oval
Growth Rate: Slow
Bloom: White to pink small flowers in dense racemes 4" long in mid- to late summer lasting three to six weeks.
Size: 6' H x 5' W
Light: Full sun to full shade
Soil: Fertile, moist, acidic but tolerates less
Hardiness: Zones 3-9
Care: Prune to maintain compactness and remove winter kill in late winter (flowers on new growth).
Pests and Diseases: None of significance
Propagation: Seed; division of suckers in spring; layering in late autumn or early spring; semi-ripe cuttings; rot cuttings
Outstanding Selection:
'Paniculata'
'Crystalina' (2-3 'tall)
'Rosea' (pink tinted buds)
'Pink Spire' (rose tinted flowers; 4' tall)
'Ruby Spice' (deep rose flowers, 5' tall)
'Humingbird' (white flowers 1-3' tall)