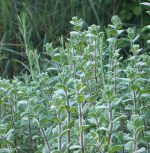 Also known as bible hyssop, Syrian marjoram, and Lebanese oregano, this tender perennial herb is native to the Middle East and is a member of the deadnettle family, Lamiaceae, that also includes mint, basil and Salvia.  The bushy plants grow up to 3′ tall and have hairy square stems with oblong to ovate, gray-green leaves that are  up to 1″ long, aromatic and softly hairy. From late spring to summer, spike-like clusters of tiny white to pale pink appear.  Each flower is two-lipped, tubular, and subtended by gray-green bracts.  The plants are attractive and the dried crushed leaves are especially valued for making  the Middle Eastern spice zaa'tar, by combining them with ground sumac berries, sesame seeds, and salt and pepper.  Dried leaves may also be used in potpourris.  Syrian oregano is a good choice for an herb garden and does well in containers.  The genus name, Origanum, may come from the Greek words oros, meaning mountain, and gamos meaning beauty.  The specific epithet, syriacum, is the Latinized form of Syria, a country where the plant is native.
Type: Tender prennial herb
Bloom: Spike-like clusters of tubular, 2-lipped, white to pale pink flowers from late spring into summer
Size: 1-3′ H x 1-4′ W
Light: Full sun
Soil: Average, dry to medium moist, well-drained, neutral to alkaline; heat and drought tolerant
Hardiness: Zones 9-10
Care: Cut back before the flowers appear to promote bushiness; cut to the ground  in autumn, winter or early spring before new growth appears.
Pests and Diseases: Generally healthy but suscetible to damage by aphids and leafhoppers
Propagation: Seed, basal cuttings
Companion Plants:  Rosemary,  thyme, lavender
Outstanding Selections: 'Cleopatra' (8-10″ H)
Photo Credit: Wikipedia