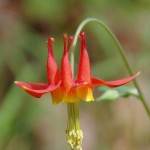 Also called crimson columbine, this herbaceous perennial is a native of western North America from the West Coast to the Rocky Mountains where it grows especially well in moist rocky soil. It is a member of the buttercup family, Ranunculaceae, that also includes delphinium, monkshood and anemone. The plant is openly branching and has blue-green biternate and lobed foliage and pendent, spurred flowers 1.5 to 2 inches long. The flowers have red to orange petal-like sepals surrounding yellow petals and appear from spring into early summer. They attract hummingbirds as well as sphinx moths that are their pollinators. The generic name, Aquilegia, may come from the Latin word aquila meaning eagle and refers to the talon-like spurs of the flowers. The specific epithet, formosa comes from the Latin word forma meaning beautiful, having a fine form.
Type: Herbaceous perennial
Bloom: Red and yellow pendent flowers with spurs from spring into summer
Size: 2-4' H x 8-18" W
Light: Partial shade to full sun
Soil: Average to infertile, dry to moist, well-drained
Hardiness: Zones 3-7
Care: Remove foliage disfigured by leaf minors; deadhead to prolong bloom.
Pests and Diseases: Leaf minors
Propagation: Seed
Companion Plants: Lupinus polyphyllus, velvety stickseed (Hackelia velutina), Salvia 'May Night', Nepeta 'Six Hills Giant', iris, peonies