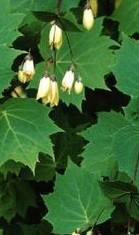 Yellow wax bells is a clump forming herbaceous perennial belonging to the hydrangea family (Hydrangeaceae) and native to mountainous woodlands of Japan and Korea. Strong maroon stems carry dark green, toothed, palmately lobed leaves that are four to eight inches across and resemble those of maples. The waxy butter yellow flowers are tubular, nodding, and up to 1.4 inches long. They appear in branches clusters, generally in threes, from late summer to early fall and are followed by brownish green seed capsules. An excellent choice for a shade garden with attractive foliage and flowers.
Type: Herbaceous perennial
Bloom: Butter yellow, waxy, nodding, bell-shaped flowers up to 1.4 inches long in branched clusters from late summer to early fall.
Size: 3-4' H x 2-3' W
Light: Partial shade to shade
Soil: Fertile, humusy, moist, well-drained
Hardiness: Zones 5-8
Care: Low maintenance

Pests and Diseases: Snails, slugs
Propagation: Division in spring when growth starts

Companion Plants: Hosta, toad lily,Epimedium, Rodgersia, Astilbe, ferns, Podophyllum, Disporum, Trillium, Paris, Smilacina, Actaea