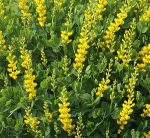 Yellow wild indigo is a herbaceous perennial native to south-central US from Missouri south to Alabama, and west to Louisiana, Oklahoma and Texas where it grows in prairies, meadows and pastures.  It is a member of the pea family, Fabaceae, that also includes mimosa, lupine, and black locust.  Plants have a tap root and 2-3′ tall yellowish green stems bearing trifoliate blue-green leaves with leaflets up to 2″ long.  From late spring to early summer, terminal racemes 12-15″ long carry pea-like yellow flowers well above the foliage.  Each flower is about 1/2″ long and gives way to an inflated light green one-seeded  spherical pod that matures to dark brown by fall. The flowers are attractive to bees and butterflies, and flowers and pods are favorites of flower arrangers. Yellow wild indigo is an attractive plant for the border as well as a good choice for cottage, meadow, wildflower, butterfly and native plant gardens. The genus name, Baptisa, comes from the Greek word bapto meaning to dye and refers to the use of the plant as a substitute for true indigo.  The specific epithet spharocarpus, comes from the Latin word spheara meaning sphere, and the Greek suffix karpos meaning bearing fruit, and refers to the shape of the seed pod. 
Type: Herbaceous perennial
Bloom: Terminal racemes of yell -peas shaped flowers from late spring to early summer
Size: 2-3'H x 2-3′ W
Light:Full sun
Soil: Average, medium moist to dry, well-drained; drought tolerant.
Hardiness: Zones 5-8
Care: Low maintenance
Pests and Diseases: None of significance
Propagation: Seed; does not transplant well
Companion Plants: Black eyed susan (Rudbeckia hirta), rattlesnake master (Eryngium yuccifolium), basket flower (Centaurea americana), Indian blanket flower (Gaillardia pulchella)
Outstanding Selection: 'Screamin' Yellow'