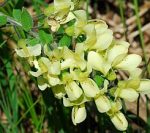 Long bracted wild indigo is a long lived herbaceous perennial and a member of the pea family, Fabaceae, that also  includes mimosa, lupine and black locust.  It is native to central and eastern US from Michigan to Minnesota south to Kentucky and Texas where it grows in sandy prairies, savannas, roadsides, and dry open woods.  Plants have a stout tap root and produce one or more light green to light purple stems 1.5 to 3′ tall.  The alternate grayish green compound leaves are sessile or nearly so and have 3 oblong leaflets each 1-3″ long and with smooth margins. A pair of leafy stipules 1/4-1.5″ long grows at the base of the leaves but may be absent or early deciduous.   In early spring, drooping  racemes 3-9″ long appear at the end of upper and outer stems bearing cream-colored to light yellow pea-like flowers.  Each flower is up to 1″ long and has five petals:  a upright banner, 2 wings, and a keel comprised of 2 petals.  The plump cylindrical seed pods are 1-2″ long contain 5-20 seeds,  and have an ornamental pale green color before turning black in the fall. Although the flowers are attractive the sprawling nature of the flower clusters makes the plant most suitable for an informal setting.  The deep taproot makes transplanting difficult.   Queen bumble bees depend on the flowers for food when they emerge in early spring. Good as fresh cut flower  or  as dried pods.  The genus name, Baptisia,  comes from the Greek word bapto meaning to dye and refers to its use as a substitute for true indigo.  The specific epithet, bracteata, is a Latinized form of bracts meaning having bracts and calls attention to the relatively long bracts of the plant.
Type: Herbaceous perennial
Bloom: Clusters of cream to light yellow pea-like flowers in early spring
Size: 1.5-3′ H x 1.5-3″ W
Light: Full sun to partial shade
Soil: Average, medium moist to dry, well-drained;drought tolerant
Hardiness: Zones 3-9
Care: Low maintenance
Pests and Diseases: None of significance
Propagation: Seed, division
Companion Plants: Daffodil, Arkansas blue star, cushion spurge, forsythia
Cultivation: The preference is full sun, mesic to dry conditions, and soil containing some sand or loam. Cream Wild Indigo prefers open areas where there is reduced competition from taller vegetation. While it is possible to cultivate this plant in the garden using seeds or transplants, it develops slowly as most vegetative growth occurs during the cool weather of spring after the danger of hard frost has passed. Mature plants can be difficult to transplant because of their deep taproots.
perennial herbaceous plant that is native to the central and eastern United States.[1] It is one of the earliest blooming species of Baptisia, beginning to bloom in March in certain areas of the United States.[2] The bloom color ranges from white to creamy yellow.[3] The flower clusters (racemes) spread out sideways or sprawl across the ground, unlike most other Baptisia species, which have vertical racemes. The flowers are visited by bumblebees.[3] The caterpillars of several skippers eat the leaves, including the wild indigo duskywing and hoary edge. The plant is poisonous to mammalian herbivores.[4]
The cream to light yellow flowers are very showy and will turn into inconspicuous light green seed pods (see images) which then turn to blue-black in the fall.  The attractive green-gray leaves have small white hairs and will turn almost black after a frost.  Both the seed pods and the foliage will provide interest throughout the seasons.  Cream Indigo thrives in well-drained soil in full sun or partial shade. The flowers of Cream Indigo are essential for queen bumblebees as they are one of the first to come out of hibernation in the spring. It is also called Longbract Wild Indigo, Cream False Indigo and Baptisia leucophaea.
false indigo 
Type: Herbaceous perennial
Family: Fabaceae
Native Range: Eastern United States
Zone: 3 to 9
Height: 2.00 to 2.50 feet
Spread: 2.00 to 2.50 feet
Bloom Time: May to June
Bloom Description: Creamy white
Sun: Full sun to part shade
Water: Dry to medium
Maintenance: Low
Flower: Showy, Good Cut, Good Dried
Attracts: Butterflies
Fruit: Showy
Tolerate: Drought, Dry Soil
Culture
Easily grown in average, dry to medium, well-drained soil in full sun to part shade. Tolerant of hot and humid summers, poor soils and drought. A long-lasting perennial that can be left undisturbed.
Noteworthy Characteristics
Baptisia bracteata is a Missouri native that features erect, branching stems of alternate, trifoliate leaves growing to 30″ high with racemes of creamy white, pea-like flowers resembling lupines in shape. Flowers give way to blackish, showy seed pods which are attractive in dried flower arrangements. Found in the wild throughout Missouri in dry, open woods and prairies.
Genus name comes from the Greek word bapto meaning to dye.
Specific epithet means having bracts.
Problems
No serious insect or disease problems. May need some support when grown in part shade.
Garden Uses
May be grown as specimens or background plants in perennial borders, wild gardens, prairies, or naturalized areas.
Description: This perennial plant is up to 1½' tall and 3′ across. One or more stems originate from the root system of each plant; these stems branch occasionally and they are ascending to widely spreading. The stems are light green to light purple and terete; for var. bracteata they are either pubescent or hairy, while for var. glabrescens they are glabrous. Alternate trifoliate leaves occur at intervals along these stems. Individual leaflets are 1–3″ long and ½–1″ across; they are usually oblanceolate in shape, but sometimes they are broadly elliptic or rhombic-elliptic. Leaf margins are smooth (entire). The leaf surfaces are grayish green; for var. bracteata they are appressed-hairy, while for var. glabrescens they are glabrous (Mohlenbrock, 2002). Leaf venation is pinnate. The trifoliate leaves are usually sessile or nearly so; less often, they have pedicels up to 1½" long. At the base of each trifoliate leaf (or its pedicel), there is a pair of leafy stipules; sometimes these stipules are early-deciduous and absent. These stipules can be highly variable in size (less than ¼" to 1½" long); they are sessile and usually lanceolate in shape with smooth margins. Like the leaflets, the stipules are grayish green and appressed hairy to glabrous, depending on the variety. The upper and outer stems of this plant often terminate in racemes of flowers about 3-9″ long. These racemes are widely spreading and they are either held above the ground or they sprawl across it. The pedicellate flowers of these racemes face upward toward the light.
Individual flowers are about 1″ long and a little less across; they have a typical pea-like floral structure co