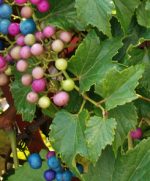 Also known as amur peppervine, and wild grape, porcelain vine is a woody, deciduous herbaceous perennial that climbs by tendrils. It is a member of the grape family, Vitaceae, that also includes Virginia creeper, Boston ivy, and woodbine. Native to hillsides in Japan , Korea, eastern Russia, and northern China, porcelain vine was introduced into the US in 1870 as an ornamental and has become invasive from New Hampshire to Wisconsin, south to Georgia and Mississippi. Plants grow fifteen to twenty feet long and have dark green leaves that with three lobes, coarsely toothed margins, and are up to five inches long . Clusters of inconspicuous greenish flowers appear in the axils of the leaves in summer, giving way to showy clusters of berries that are ¼" across and become shades of purple to blue as they mature. The cultivar 'Elegans' is not as vigorous as the species and offers green leaves with pink and white splotches borne on bright pink petioles. The genus name, Ampelopsus, comes from the Greek words ampelos meaning a vine and andopsis meaning likeness. The specific epithet, brevipedunculata comes from the Latin words brevis meaning short, and pes, pedis meaning foot, and refers to the short stalk that bears the flowers.
Type: Woody, deciduous vine
Bloom: Clusters of inconspicuous greenish flowers in the axils of the leaves in summer
Size: 15-20'H x 15-20' W
Light: Full sun to partial shade
Soil: Average, medium moist, well-drained
Hardiness: Zones 4-8
Care: Control growth by cutting to the ground in winter; needs support for growth.
Pests and Diseases: Generally healthy but Japanese beetles can be a problem.
Propagation: Seed, cuttings in late autumn