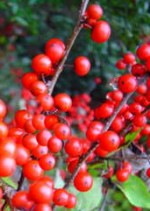 Hollies in general are wonderful trees and shrubs but this one is absolutely incredible when it has lost its leaves and is showing its fruit. Unfortunately the birds are taken by the fruits too so even though the berries could hang on until March they probably won't because the birds will devour them. Of course stems covered with shinny red berries make wonderful holiday decorations so if you are quick in the fall you can get some branches for indoors before the birds take them. (You can always feed the birds at a feeder to make up for the loss.) Like other hollies, an individual plant is either male or female and the female produces the berries. Yes, to have to have a male around to pollinate the female and he won't produce any berries, but a non productive male is a small price to pay for this special winter treat. On the other hand, you can always hope your neighbor has a male. On the plus side, both male and female plants will have pretty yellow fall color.
Type: Deciduous shrub.
Outstanding Feature: Red berries in fall.
Form: Vase shaped.
Growth Rate: Moderate.
Bloom: Small white flowers in late spring.
Size: 12' H x 12' W.
Light: Sun or shade but fruiting in heavier in sunny locations.
Soil: Wide range of dry and wet sites from light sandy loam to heavy clay loam and muck.
Fertilizer: A spring application of a fertilizer for acid loving plants such as Holly Tone will enhance growth and fruit production.
Hardiness: Zones 5b-9.
Care: Low maintenance.
Pests and Diseases: None of importance.
Propagation: Softwood cuttings through out the season.