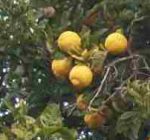 Although not common, lemon wine does have its enthusiasts and the Internet has at least several recipes for making it.  My paternal grandmother, Helen S. Wright, in her book Old Time Recipes for Home Made Wines,  included two recipes for lemon wine both of which include spirits of some sort, unlike most modern recipes. If you are going to try to make lemon wine either use home grown lemons or buy organically grown one because both juice and rind are included in the final product.
Here is the first of 2 recipes for lemon wine in the words of my grandmother:
Take six large lemons, pare off the rind, and squeeze out the juice; steep the rind in the juice, and put to it one quart of brandy.  Let it stand in an earthen pot close stopped three days, then squeeze six more, and mixwth two quarts of water, and as much sugar as will sweeten the whole.  Boil the water, lemons, and sugar together, letting it stand till it is cool; then add one quart of white wine, and the other lemon and brandy, and mix them together, and run it through a flannel bag into some vessel.  Let it stand three mpnths and bottle it off; cork your bottles very well and keep it cool.  It will be fit to drink in a month or six weeks.
To buy Old Time Recipes for Home Made Wines by Helen S. Wright from Amazon.com  Click Here.