Few gardeners carry out plant breeding programs in their home gardens but perhaps more should do so.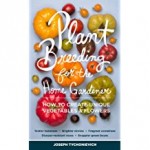 book, Plant Breeding for the Home Gardener, is a great introduction to the topic and offers a good foundation for pursuing it. With a love of plants and a very conversational writing style, the author explains the basics of plant breeding in non-technical language and provides a foundation for going on to tailor your vegetables and flowers to your own artistic and culinary tastes.
If you have a single doubt that you can carry out a plant breeding program it will be dispelled by the first chapter of the book where Tychonievich describes the advantages of home breeding programs and development of modern corn from a tiny grass plant. As he goes on to share his experiences of setting breeding goals, the excitement builds and continue as he details flower anatomy and the way to create plant crosses. Even the sections on plant genetics, evaluating and selecting plants for further breeding , and advanced techniques beyond the home breeder, are filled with enthusiasm that inspire and entice. The most interesting section to me was the one that included case studies on specific flowers and vegetables from columbine, coleus, and roses to beans, cabbage, and tomatoes.
The biggest strength of the book is the enthusiasm for plant breeding that it inspires. Yes, it gives an excellent overview of the many steps in plant breeding and makes them all seem interesting and fun but skips over the fact that many are tedious and take a long time to fruition. The simple language is a benefit in most cases but the analogies of cookie dough and genetics were over-kill although well intentioned. If you think you might like to try plant breeding, this book is an excellent way to see the big picture and decide if you have the perseverance and interest to become involved.
To buy Plant Breeding for the Home Gardener from Amazon.com Click Here.