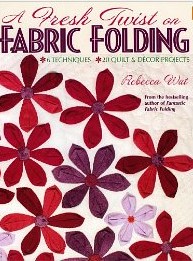 Combining her interest in origami and quilting Rebecca Wat presents six techniques and twenty projects for three dimensional designs including garden favorites such as flowers and butterflies in addition to more traditional ones. The designs are made from a single piece of fabric and can be pieced into a quilt like a regular quilt block. The projects employ a variety of styles from traditional to contemporary and can be duplicated or serve as an inspiration for creating something entirely new.
Each chapter focuses on a new folding technique. Detailed instructions are provided for the new technique with photographs of each step. Once the basic technique is mastered the reader can move on to trying various embellishments such as pressing the motifs differently, stuffing them, and inserting contrasting fabrics. Directions for several projects are provided, giving specific information on materials, cutting, folding and construction. The projects include quilts and pillows in various styles, combining traditional techniques with the new fabric folding technique. Color photos show the completed projects.
One of the outstanding projects is a quilt combining several techniques, inside-out flowers, diamond petals, and fortune cookie petals. A pleating technique is used to create a quilt of autumn leaves that captures the look of colorful fallen leaves. Another project uses butterflies to create a child's dress.
The book concludes with a brief overview of the quilting process as a reference for the beginning quilter. Basic directions are provided for quilting such as rotary cuttings, piecing, appliqué, pressing, borders, layering, quilting, and binding. Whether you are a beginning or experienced quilter, or just a person who enjoys fabric and sewing, you will find some new and beautiful flowers in this book to enhance your projects.
To buy A Fresh Twist on Fabric Folding: 6 Techniques – 20 Quilt & Decor Projects from Amazon.com click here.