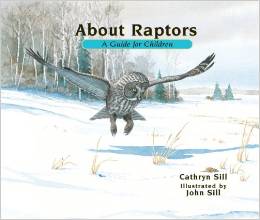 Raptors are not usually everyone's favorite bird but they play an important role in the environment and should be appreciated. Cathryn Sill's book, About Raptors, introduces young readers to these important birds in a sensitive and fascinating way that is sure to capture the imagination and curiosity of children as young as three or as old as eight. The simple text is combined with realistic watercolor illustrations to create a very informative book that both entertains and teaches the readers the basic facts about raptors.
The subject is introduced with the statement that "Raptors are birds of prey that hunt and eat other animals". The author continues by describing the physical characteristics of raptors, their hunting methods, nesting habits, and geographical distribution. Each concept is presented in a simple sentence or phrase on one page and a full page illustration on the facing page showing a raptor in its natural environment. Twenty five different raptors from various places in the world are depicted including the bald eagle, collared forest falcon, secretary bird, and common barn owl. An Afterward gives more detailed information on both predators in general and the ones featured in the text. We learn, for example, that there are about 450 different kinds of raptors, the elf owl at 5½" tall is one of the smallest raptors, and the lack of feathers on vulture's heads leaves them clean and germ-free when they eat rotting meat. A short glossary, bibliography, and list of websites about raptors concludes the work.
To buy About Raptors: A Guide for Children from Amazon.com click here.