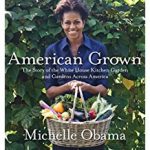 In her book, American Grown, Michelle Obama details her experience establishing a kitchen garden on the White House's South Lawn in an attempt to start a national conversation about the impact of the food our children eat on their health and well-being. She was concerned about the rising number of overweight and obsess children in the US and hoped that by sharing her story she could inspire families as well as schools and communities across the country to join together to build a healthier nation. This is a story of not just one garden it is the planting of a seed that will hopefully grow into a whole new way of looking at food.
The book includes a great variety of information from the authors' personal background to the history of kitchen gardens in general, the step by step process of establishing the Obama kitchen garden at White House, the involvement of local children, and community gardens across the country. Obama recounts the way the site was chosen, how the garden was designed, the choice of crops, the preparation of the beds, and the use of the produce. Obama talks about the values of hard work and teamwork taught by gardening and emphasizes the bonding experience that gardening can provide. The stories of other community gardens across the country enrich the story and show how these gardens are changing the lives of the people they touch.
Considering that the author was not an experienced gardener her efforts at gardening are noteworthy. Her story includes her doubts and concerns as well as her triumphs and the many photographs showing her tending the garden with many local children give a sense of the interest she had for the project. The book also includes the White House gardening plans, many gardening tips, and recipes created by White House chefs using the freshly picked produce, and although not a gardening manual for an experienced gardener allow the reader to share a unique gardening experience.
To buy American Grown from Amazon.com Click Here.