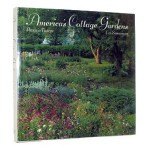 The charming image of an eighteenth century English cottage garden is a dream to most gardeners in North America but not a reality for most of us. We have a different climate, soil, flora, and tradition and all those factors are going to influence what we can have. Patricia Thorpe's book, America's Cottage Gardens, takes a look at the kind of cottage gardens that Americans have produced giving a fresh prospective on the subject and encouraging people in to develop a cottage garden that reflects the area in which they live and garden.
After an introduction to the traditional cottage garden, Thorpe describes the ways that Americans can adopt certain principals to create a cottage garden of their own. She then takes the reader on a visit to the five major regions of the United States, presenting ideas and pictures from numerous gardens in each region. Cottage gardens in 23 different states are discussed with emphasis on the regional variations that exit.
Since there are no hard a fast rules for creating a cottage garden, the range of American cottage gardens is huge. In Memphis, Larry Wilson lines his walk with lettuce and dianthus; Beatrice Wyatt in Venture California, uses painted rocks as a ground cover; Jessica and Dean Smith of Billings, Montana enjoy burgundy amaranth, bells of Ireland, four o'clocks and zinnias together with vegetables and herbs; and Edmond Emery in Clinton, Connecticut uses his self made rough-wood fences, arbors, and gates to make his garden unique. Variety and individuality mark all the gardens.
The final two chapters are devoted to classic cottage flowers, architecture and garden ornaments. Thorpe notes that lists of traditional cottage garden flowers are irrelevant but goes on to discuss many plants that seem to be favored all over the country including roses, peonies, poppies, iris, hollyhock, lilies, and various bulbs. The chapter on architecture and garden ornaments deals with elements that enclose and define garden areas as well as with such ornaments as trellises, seating, containers and water elements. No recipes or "how to" tips are given but ideas for creating a unique personal cottage garden are plentiful.
To buy America's Cottage Gardens: Imaginative Variations on the Classic Garden Style from Amazon.com click here.