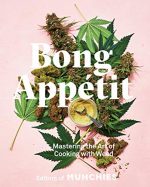 Cooking with weed has come a long way from the brownies that that Mary Jane Rathbun created for AIDS patients in San Francisco in the 80s and 90s. Today, serious chefs are exploring new ways to serve a large variety of upscale foods using various forms of marijuana. Bong Appetit , based on the Munchies and Viceland series, offers a wealth of information about using cannabis in cooking, and provides weed-laced recipes for consumables ranging from drinks and appetizers to entrees and desserts.
You don't have to me an expert in cannabis or in cooking to appreciate and use this book. Introductory materials cover the basics from the potency of various plant parts and the science of infusing to suggestions for buying marijuana and pairing strains and flavors. Especially interesting is the section of what to do if someone consumes too much THC and suggestions for home dosing.
The recipes are presented by function (drinks, appetizers etc.) and range from simple old favorites like French bread pizza to more novel creations like collard green melt, honey rosemary ice cream, and spinach and artichoke dip risotto. Other than the cannabis, most of the ingredients are easy to find but a few like sea beans, gochugaru, and ras el hanout, will take some looking. Most recipes have the ingredients listed in boldface on the left side of the page with the directions on the right and a full page illustrations of the finished dish on the opposite page. Especially important is the note giving the THC in the whole dish as well as in each serving. Even if you don't want to use any cannabis ingredients many of the recipes are noteworthy and deserve a try.
To buy Bong Appetit from Amazon.com click here.