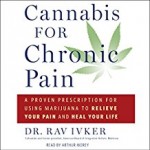 Dr. Ivker's book, Cannabis for Chronic Pain, presents a holistic approach to pain management that includes the use of marijuana. Although the title might suggest that the book deals exclusively with medical marijuana this is not the case and the author shows how to use medical marijuana effectively as part of a pain management program. With over 50 years of experience as a holistic family doctor, Dr. Ivker shares his knowledge of medical marijuana and his experiences with using it for chronic pain.
Part I of the book explores the nature of cannabis as medicine and presents the most current information on its safe and effective use. Chapters include information state regulations regarding medical marijuana (MMJ), the different characteristics of THC and CBD, and various delivery methods from smoking to edibles, and topical. Part II deals with the integral holistic medical treatment for the most common chronic pain conditions: inflammation, osteoarthritis and rheumatoid arthritis, lower back pain, migraine headache, fibromyalgia, GI diseases, musculoskeletal pain, neuropathic pain, menstrual pain, pain associated with cancer, and emotional pain. For each kind of chronic pain Dr. Ivker identifies the possible risk factors and causes and gives recommendations for MMJ as well as for holistic medical treatment and prevention. The recommendations for MMJ include products, strains, and delivery methods, while those for holistic medical treatment and prevention include diet, vitamins, supplements, and herbs as well as emotional and spiritual strategies. Many chapters include patient stories that make the conditions and solutions come alive.
If you are considering using MMJ for chronic pain this book will give you plenty to think about. Dr. Ivker provides a great deal of background information on the subject and describes many choices for incorporating MMJ into a holistic approach to treatment. His aim, however, is to provide a way to significantly reduce pain without the need for daily use of cannabis.
To buy Cannabis for Chronic Pain from Amazon.com Click Here.