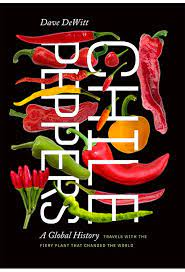 Food historian and author, Dave DeWitt, presents a history of chili peppers from their origin and domestication to their spread and use around the world. Using a variety of sources such as archaeological evidence, historical botanical observations, and studies of modern cooking methods of the Incas, Mayas, and Aztecs, DeWitt describes the role of chili peppers in the early cultures of South and Central America. Interesting facts include the Inca's worship of the chili pepper as one of the four brothers of their creation myth, the Mayan use of chilies to produce a spicy beverage, and Columbus' role in spreading chilies to Europe and beyond.
Subsequent chapters present a travelogue approach that describes the role of chilies in the modern day cuisine of the Caribbean, Latin America, US, Europe, Africa, India, and Asia. DeWitt has extensive travel experience and shares his experiences with readers, giving specific information on the dishes and kinds of chilies that are popular in each region or sub region. In addition, he provides recipes gleaned from his many dinning experiences or modified to suite the taste of American palettes. Highlights of these chapters include the story of how paprika took over Hungary, a wine made of chilies using a recipe from an aboriginal tribesman, and the suggestion that chilies may actually burn calories.
The final two chapters consider health aspects of chilies and explore the legends and myths that have surrounded chilies for centuries. Did you know, for example, that chilies are considered to be a cleanser for the evil eye, bad luck, and bewitchment among Hispanics in the US? Or that among African Americans in the Ozarks the hottest chilies are believed to be planted by lunatics?
DeWitt writes in a casual style that belies the amount of detailed scientific material he includes. He complements his text with humorous anecdotes like the chaos caused by the sacred langur monkeys on the roofs of the Shikarbadi Hunting Lodge. Especially tasty recipes include those for rocoto relleno, bobotie, and lamb vindaloo. Numerous full color pictures such as scenic landscapes associated with chilies, fresh markets overflowing with an abundance of vegetables, and many dishes made with chilies, enhance the text. DeWitt's book includes a lot of wonderful perks for people that love and are interested in chili peppers!