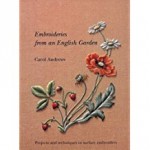 One look at the pictures of the competed projects will tell you that this book is special. Embroideries from an English Garden by Carol Andrews present fifteen projects inspired by the seasonal flowers and fruits in her own garden and executed in a breath taking style that makes the flowers seem almost alive. As an artist who teaches botanical painting as well as embroidery, Andrews combines her artistic sensitivities and knowledge of botany to create 3D forms using a variety of techniques including shading and padding.
The projects features many different flowers, berries, and leaves in seasonal combinations, opening with one for winter that includes ivy, yew, cotoneaster, holly, jasmine, and rose hips. Other projects include rose flowers, Michaelmas daisies, heather, thalictrum, blackberries, marigold, crabapple, honey suckle, buddleia, and lilac, to give just a sampling. Each project consists of full sized pattern outline, thread list, detailed instruction, and a full color photograph of the completed project. A general "How Too" section show gives more information on stitches and techniques, supported with drawings.
Although the book claims to be suitable for beginners to experts, the skill level needed to reproduce the projects well is high and beginners may be disappointed. On the other hand, each flower, fruit, or leaf in any of the projects is a work of art and worth doing for the practice it would provide and by approaching a project piecemeal beginners could attain the skill level needed to complete a whole project. Anyone interested in exquisite embroidery would enjoy Embroideries from an English Garden.
To buy Embroideries from an English Garden from Amazon.com Click Here.