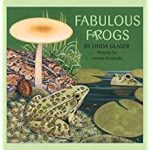 Linda Glaser's book, Fabulous Frogs, introduces young readers to the life cycle, behavior, and appearance of frogs in general with a focus on leopard frogs, spring peepers, and bull frogs. We learn about six different sounds frogs sing, spawning, tadpole development, escape from predators, and food getting. A four page question and answer section explores the topic in greater depth for those that are interested and contains such items as the differences between frogs and toads, the role of frogs in the environment, and ways the frogs can be protected from environmental hazards.
The text is simple and employs occasional rhyming words or lines to add to the lyrical quality of the work and sometimes the type set mimics the meaning of the words. The illustrations are done in a palette of greens and brown with colorful accents to evoke the natural environment of frogs. Wonderful renderings of a raccoon, fox, and turtle embellish the scenes along with the flora that grows in and around a pond. Written for preschoolers to first graders, Fabulous Frogs is a fun introduction to the subject.
To buy Fabulous Frogs from Amazon.com Click Here.